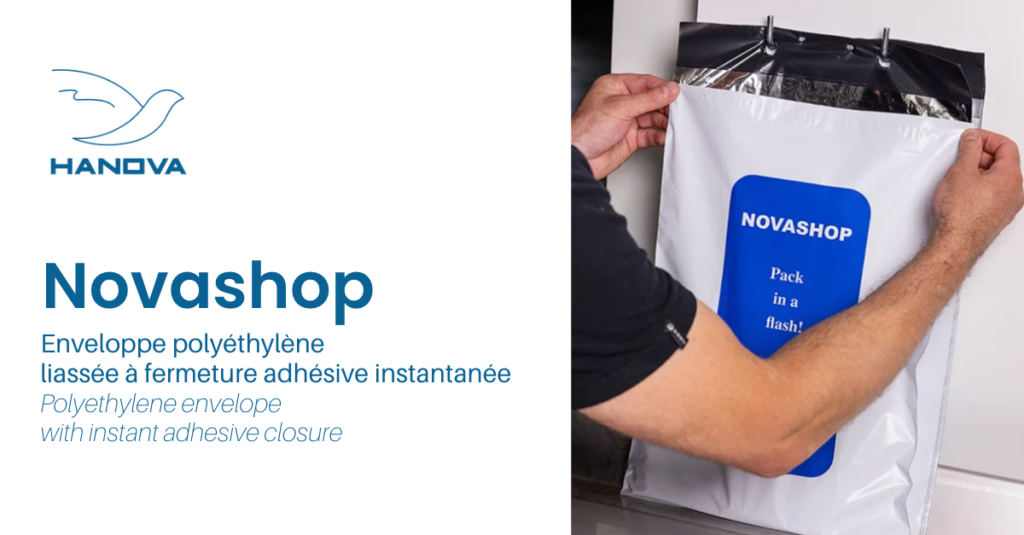 Our patented NOVASHOP© instant-closure envelope
In today's world, e-commerce, click and collect and mail-order sales have taken on a major role.
To facilitate these activities, the NOVASHOP© HANOVA self-adhesive envelope is a must!
ratic and secure, it offers a fast, efficient solution for shipping products.
Thanks to its instant adhesive closure, it saves time, increases productivity and boosts efficiency!
When hung on a wall or bundled, it can be detached by means of a perforation, and there's no need to close the adhesive flap, as the envelope closes by itself.
For logistics companies, they facilitate parcel sorting and dispatch, while improving operational efficiency.
For mail-order companies, these envelopes ensure the confidentiality of documents and provide a neat presentation for recipients.
Our envelopes are available in different sizes to suit a variety of products, and can also be printed in up to 6 colors.
Resistant, they guarantee protection of products during transport, minimizing the risk of damage or theft.
Equipped with a handle, if required, or a bottom gusset for bulky items, they provide convenience and comfort for order-pickers and consumers alike.
Our NOVASHOP© envelopes have become indispensable, offering a practical, secure and economical solution for packaging and shipping products.
Watch a short video of our product: https://youtu.be/G8xNTAFPWww
Visit our website for more information on NOVASHOP© envelopes: https://www.hanova.fr/novashop/
or contact our sales department directly: +33 (0)3 21 61 68 68