Why choose our NOVALIST HANOVA adhesive pouch?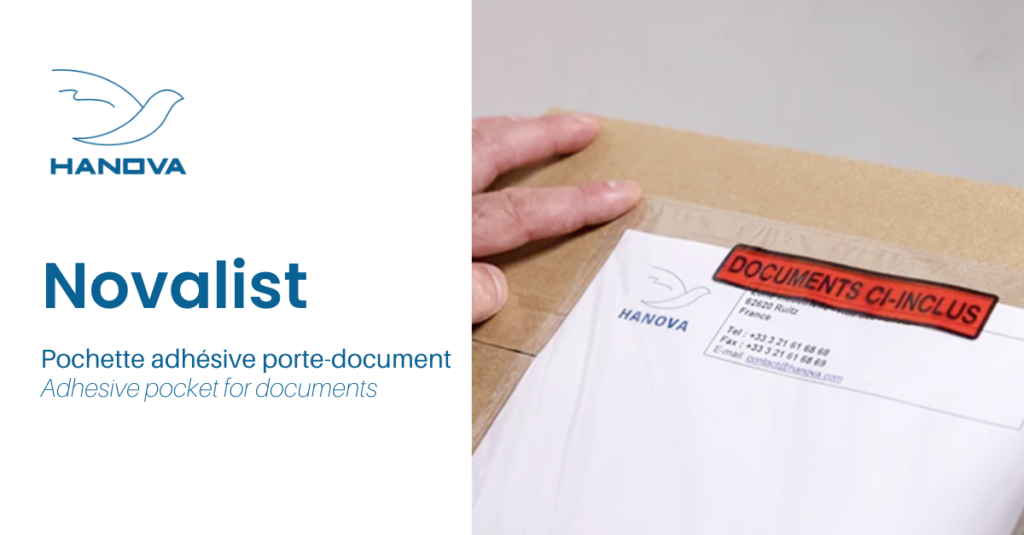 Our lightweight, tear-proof and waterproof adhesive document pouch enables you to send your delivery documents, invoices, warranty certificates, etc. in total security. With its permanent adhesive backing, it can be stuck to any surface, guaranteeing that your documents will reach their destination. Easy to use, it enables clear identification of your parcels and pallets.
Available in several formats, from stock or custom-made. On our website, you'll find all the options for our document envelope: colored or opaque film, peel-off adhesive, flap with repositionable adhesive closure, overlapping, custom printing, different thicknesses of backing…
Manufactured with polyethylene film made from 30% recycled material, our envelopes are fully in line with our commitment to providing eco-responsible, circular-economy products.
Ask our sales department about the feasibility of the dimensions best suited to your activity. Free quotations within 24/48 hours, samples (similar or similar products on request) and short production lead times (3-4 weeks).
Follow this link for more information: https://www.hanova.com/product-novalist/